Seared Scallops are not an everyday item here at Chez Sugar and Spice. I was not raised on sea food.  Shrimp, on special occasions, heavily dunked in mild cocktail sauce was the extent of things.  Family members simply did not care for creatures from under the sea. Myself included.
Recently I feel my palette has grown and I've developed a liking to good quality, well prepared, seafood.  At a friend's wedding, traditional Chinese style, seafood delicacies were served. One right after the other.  With a "when in Rome, attitude", I decided to jump right in. First dish, whispering to DH, "what is this honey"? "Pick up your soup, it's Shark Fin Soup" was the answer.
You know what.  It was good.  Beyond good, it was extraordinary. The deep-fried whole lobster followed by prawns, abalone, crabs and other crustacean items were even better.  I stopped asking what the dish was before me and began to just savor the brilliant preparation. The last dish, that sealed the deal, was a platter of steamed whole fish. Wow, that was good too. I went home that night knowing I had crossed over. Next challenge would be Sushi, but that is another story.
Fast forward to a Las Vegas trip last September/October. You know the one,  Whirlwind Weekend Recap with Duran Duran and Neon Trees. At +35 steaks and Martinis their scallop dish was terrific, it's the inspiration behind the following recipe.
Off we go.
6 pounds of potatoes, washed and peeled. Yukon Gold.
Cut them into uniform cubes to allow even cooking.
Once they have come back to a boil in your salted water, remove the foam that tends to form on top of the water. This starch is not tasty.
When the taters fall apart when you stick a knife into them. They are done. Drain.
Return them to the same pan over low heat. Stir the potatoes to cook off some of the residual water. You are not trying to cook them, just dry them.
Next up, Unsweetened Coconut Milk, this is all you need.
Open the can and stir. The coconut milk tends to coagulate, especially around the top. You need to break it apart to make the milk smooth.
Add the coconut milk to your potatoes.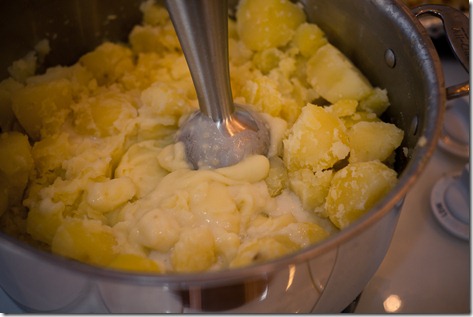 Then I reached for my old boat motor, (hand-held blender) and started pureeing.
If you don't have a boat motor, try working in batches in your blender or food processor. Once the potatoes are pureed, season to your taste with kosher salt.
Next up, the mushrooms. Clean the mushrooms with a paper towel or dish cloth. Then remove the stems (discard) and fine dice the mushroom caps.
Add your butter to a medium heated pan.
And sauté your mushrooms until golden brown. Set them aside.
For a huge time saver here, I purchased prepared pineapple at the market. You only have to cut these nuggets down to size.
Next time I would have chopped smaller.
Anyways, throw these under the broiler. Keep your eye on them.
Until they are caramelized, a little burning along the edges is good. Set aside.
For the Balsamic:
Pour balsamic vinegar into a pan. Use enough vinegar to allow for it to reduce by half when finished. Heat the pan to high. Whisk. Once it starts boiling, keep whisking constantly to prevent burning. The vinegar naturally sweetens when reduced, but if you like a very sweet reduction, like me, sprinkle in a tablespoon of sugar.
It reduces quickly. It's done when you have half of what you started with, or until the vinegar takes on a syrupy quality
It's scallop time!  Take your room temperature scallops, sprinkle each with salt and white pepper. Then dust them lightly in a coating of flour.
Add them to a pan of olive oil and butter, sizzle sizzle.
Turn them when they appear golden brown.
Grab your plate and add your coconut scented purée.
Add your scallops,
and garnish with the grilled pineapple, mushrooms, balsamic vinaigrette and a dash of chives.
Enjoy.
Have a great weekend friends.
Seared Scallops, with a Coconut Scented Potato Puree, Caramelized Pineapple, Shitake Mushrooms and a Balsamic Reduction Garnish.
Ingredients
For Coconut scented potato puree
6 pounds medium potatoes
1 cup well-stirred canned unsweetened coconut milk
For Mushrooms
4 tablespoons unsalted butter
1½ pounds assorted fresh wild mushrooms (such as oyster and stemmed shiitake)
For Balsamic Vinaigrette
½ cup Balsamic Vinegar
1 Tablespoons Sugar
For Scallops
1¼ pounds sea scallops
1 tsp. salt
1 tsp. white pepper
1 cup all purpose flour
2 tablespoons olive oil
2 Tablespoons butter
Chives for Garnish.
Dice Roasted Pineapple for Garnish
Instructions
Cook potatoes in pot of boiling salted water until tender, about 25 minutes. Drain, and cool slightly. Return warm potatoes to same pot and add well stirred coconut milk. Blend to combine using a blender, food processor or hand-held blender. Set aside.
For the mushrooms. Melt 4 tablespoons butter in large nonstick skillet over medium-high heat. Add mushrooms; sauté until golden brown, about 12 minutes. Season to taste with salt and pepper. Remove from heat. Cover with foil to keep warm.
Roast diced Pineapple under the broiler until caramelized. Set aside.
Pour balsamic vinegar into a pan. Heat the pan to high. Whisk. Once it starts boiling, keep whisking constantly to prevent burning. Sprinkle in a tablespoon of sugar. It's done when the vinegar takes on a syrupy quality
Sprinkle scallops with salt and white pepper, then dredge in flour, shaking off excess. Heat oil and butter in large nonstick skillet over medium-high heat. Add scallops; cook until golden brown and just opaque in center, about 1½ minutes per side.
On top of the coconut scented purée add your scallops, garnish with mushroom, grilled pineapple, balsamic vinaigrette and chives.