Grammie's parents separated when she was a toddler.  Her mom, to support her only daughter, rented out rooms in their home to offer family income.  Grammie grew up as a pair of hands to help her Mom run their boarding home. She assisted in cooking two meals a day for their 1920′s boarders.  Below was their Parker House Dinner Rolls recipe.  It has been passed down generation by generation and is a star offering during holiday gatherings.
However, this year the holidays were different. One, Grammie had crossed over to be with her mom and husband.  Two, the task of cooking Christmas dinner for 20, was in my hands.  Don't get me wrong.  I offered.  It was a Christmas gift to my mom.
I knew these rolls were necessary to help lift holiday spirits.  My mom had made these rolls each Christmas, it made the day seem a touch more "festive". Especially to Grammie, during her annual holiday visit.  The result of my gift?  My dad whispered, "the torch has been passed my dear".  Gulp.
In Grammie's sharing spirit and me with my trusted camera, here is the recipe.
Warm your milk and add
sugar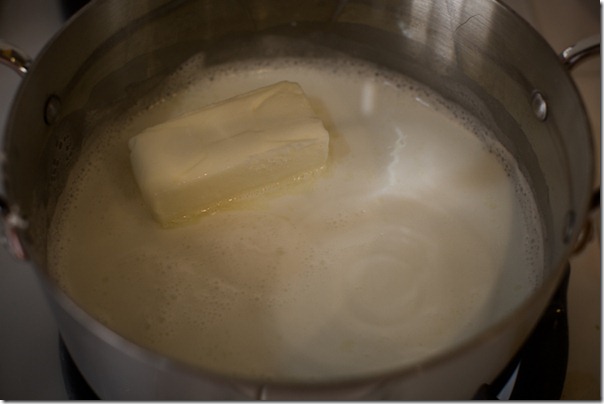 and butter. Bring this to a low simmer.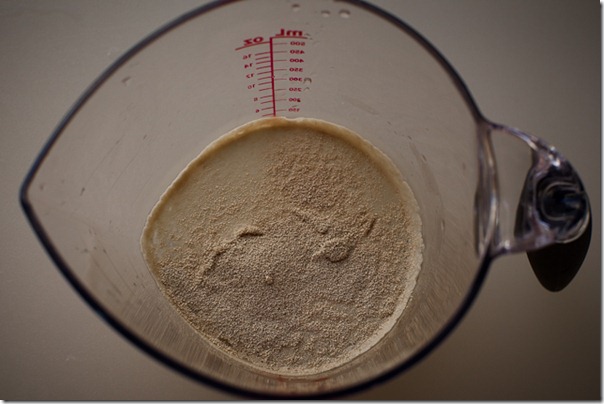 Meanwhile add your yeast to warm water and stir. Set it aside to do its thing (foam)
For the dry ingredients, add your flour to a bowl
mix in salt and set aside.
Lightly beat three eggs.
Now you have everything.
Add the warm milk mixture to your bowl. I let the hot milk sit in the bowl to cool down a bit before adding
the eggs. The milk mixture needs to cool down to the point where you are no longer concerned about the eggs becoming scrambled-eggs when you add them. Think Luke-warm.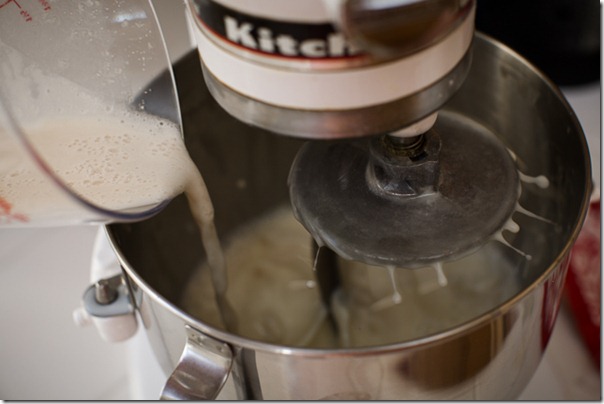 Then add your foaming yeast.
Next up the flour. Add half of it.
Combine until smooth, be sure to scrape down your sides.
Then add the remaining flour, one cup at a time.
Looking good.
Almost there.
The dough still seemed sticky and wet, no dough ball was coming together. I added more flour, by the tablespoon, until the dough firmed up.
There we go.
Next, flour your surface with plenty of flour.
Dump your dough out.
And knead for 5 minutes. My brow had sweat on it.
Beautiful.
Now the dough needs a nap for 60-70 minutes in a warm place.
So it can double.
Plop your dough onto the flour surface and flatten it to a desired width.
I used a glass cup to cut the circles.
Place the rolls on parchment paper or Silpat liners. Cover again and let rise until doubled, about 30 to 40 minutes.
Then bake at 350 degree F for 20 minutes.
When they come hot out of the oven, coat the rolls in melted butter.
Hungry yet?
Viola – Grammie's Parker House Rolls. Just like they served in 1920.
Grammie's Parker House Dinner Rolls
Ingredients
1½ cups milk
1 stick unsalted butter, cut into pieces, plus more for brushing
½ cup sugar
1 package active dry yeast (2½ tsp.)
½ cup warm water
3 large eggs, lightly beaten
1½ teaspoons salt
6 cups all-purpose flour
Instructions
Place milk in a small saucepan and bring to a simmer. Remove from the heat, stir in the butter and sugar and let cool. Dissolve yeast in warm water and let sit until foamy. Combine milk mixture, eggs, yeast, salt, and ½ of the flour in a mixer with the dough attachment and mix until smooth. Add the remaining flour, ½ cup at a time, and stir until a smooth ball forms.
Remove from the bowl and knead by hand on a floured surface for about 5 minutes. Place in greased bowl, cover, and let rise in a warm place until doubled in bulk, about 60 to 70 minutes. On a floured surface, punch down the dough and shape into desired shapes. Place on a parchment paper-lined baking sheet. Cover again and let rise until doubled, about 30 to 40 minutes.
Preheat the oven 350 degrees F.
Bake for about 20 minutes or until golden brown. Remove from the oven and brush with melted butter before serving.
Thanks Great Grammie, Grammie, and Mom.