The sink is full of soapy warm water and the oven is humming all day long.  The Sugar and Spice cookie factory is running at full tilt.
Last night, after many cookies were cooling, I asked which one had the highest rating among the tribe.  This Chocolate Pecan Rolo Cookie Recipe was the hands-down winner.  Why is it my favorite as well?  The cookie is not just a sugar bomb. I need to taste that chocolate, please, and the  flavors seem come together nicely with just the right amount of crunch.
Here is the show stopper – Chocolate Pecan Rolo Cookie Recipe
Grab your flour, unsweetened cocoa, baking soda and salt (not photo'd oops)
Mix them together
and set it aside.
Now for the wet ingredients. Eggs & butter both room temperature, white and brown sugar, and vanilla.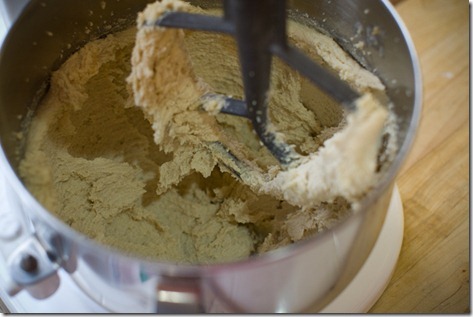 Beat the sugars and butter until light and fluffy. Add vanilla and eggs, one at a time, and mix again.
Add flour mixture and blend.
Be sure to remember to scrape down your sides periodically.
Plop your dough onto a piece of plastic wrap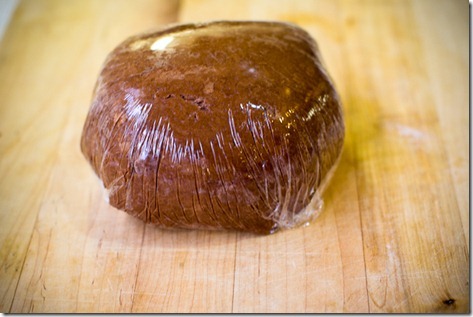 so you can chill the dough in the refrigerator for at least 30 minutes.
Dough is cold, grab your chopped pecans and Rolo's. I almost had to buy a second bag, I ate a few. By the way have you ever added Rolo's or Milk Duds to your popcorn at the movies? A favorite indulgence.
Gently fill your 2 tsp. sized scooper with dough then insert a Rolo.
Then patch the bottom with a layer of cookie dough to trap that Rolo.
Next press the ball into your chopped Pecan's.
Looking good. They are ready for take off.
A few minutes later.
Santa is going to LOVE these babies.
Rooty-root-toot and rump-a-tum-tum,
Chocolate Pecan Rolo Cookie Recipe
Ingredients
2½ cups all-purpose flour
¾ cup unsweetened cocoa
1 teaspoon baking soda
1 teaspoon salt
1 cup brown sugar, firmly packed
1 cup granulated sugar
1 cup unsalted butter, softened
2 teaspoons vanilla
2 large eggs
1 bag or about 6 rolls of Rolos
Topping:
1 cup pecans, finely chopped
Instructions
Directions:
Heat oven to 375°.
In a small bowl combine flour, cocoa, salt and baking soda. Mix well.
In a large bowl beat sugars and butter until light and fluffy. Add vanilla and eggs, one at a time, and beat well. Add flour mixture and blend. Chill dough at least 30 minutes.
In a small bowl combine chopped pecans.
For each cookie, shape about 1 tablespoon of dough around 1 Rolo, covering completely. Try to have more dough at the bottom of the cookie so that the candy doesn't melt through.
Press one side of each ball into the nut mixture and place, nut side up, two inches apart on ungreased cookie sheets. Bake at 375° for 10 minutes or until set and slightly cracked. Cool at least two minutes before removing from cookie sheets. Then cool completely on wire racks