Looking for holiday wrapping paper, check bows, treat ribbon, diagnosis decorative wine bags, boxes to send gifts out-of-town, even pastry boxes to bring home-made cookies to an event?  Look no further.  Ladies and gentlemen, may I introduce you to Paper Mart.
Paper Mart is a 4th generation owned and operated family business.  2011 is their 90th year in business.  A year ago they were located in The City of Commerce.  Today you can find this 9 acre building off Batavia right here in the City of Orange.
It is the largest discount packaging supply company in the United States with over
26,000 items for sale.  All items are marked at whole sale prices.  Not only do they sell to retailers in mass quantities all over the world, they also sell to individuals right here in the OC.
I was looking for some Hot Pink Grosgrain ribbon the other day.  Don't ask why, I was feeling crafty and came across this on Paper Mart's Website.  I was thrilled that they were local and offered Will-Call pick up.
Take about a huge selection!  I have never seen so many ribbon choices in one location. I could have ordered it online and had it shipped, but I wanted to check out this 9 acre layout.
The GPS routed me to this sign off Batavia.
Follow the arrows to the "warehouse".  This is where you will be able to go inside to order and pick-up your items.
Let's go in.
Across from this display of products is the ordering area.
Grab a chair and let's see if we can find that Pink Ribbon.
Wait, no keyboard?  No need, it's simply a point and click operation.
FOUND IT. ORDERED. SEND.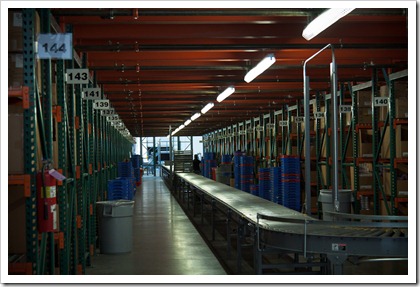 The order is immediately sent into production.
It is located by bin and pulled by hand.
It then will begin its ride along the conveyor belt to meet you at the will-call window.
Looks like somebody is getting ready for Christmas in the order ahead of ours.
After making its way through all its check points.
It arrives at will-call.  I wait my turn in line.
Then met my ribbon in under 15 minutes.  If that seems like too long, you can call ahead to place your order.  It will be ready for you by the time you get there!  Talk about service.  Prices are insanely great.
Go check it out for yourself my friends.
Paper Mart
2164 N. Batavia Street
Orange, CA 92865-3104
800-745-8800
Sales/Customer Service Hours (Weekdays): 6:30AM – 5:30PM PST
Will Call Hours (Weekdays): 8AM – 5PM PST
This is a gem of a find, especially with only 75 days until December 25th.