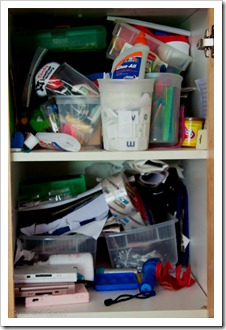 We designate a separate space in our home for school/art supplies.  Crayons, colored pencils, sticker, envelopes, tape, et al – live in a kitchen cabinet.  It's a place that the entire Tribe uses.  When certain people, who shall stay name-less, don't respect Momma's organization, the cabinet turns into a disaster.  When it becomes this unruly, the creative juices screech to a halt.  Can you find a red crayon in that mess?  I think not.  Something had to be done.  An organizing bender was about to go down.
Enter last weeks summer project.  With all hands on deck, the space was to be put back together.  Getting everyone involved was the goal, in hopes the little people would have ownership of this organization.  Then do their part in keeping it tidy.  Are your fingers crossed too?
First line of business. Yank everything out.
We had some big work to do.  Let's grab a large trash bags.
On-your-marks, get-set, go.
2 Hours Later.
shall we zoom in?
SO much better.
Now, if I could just get this bag out of the house…
without anyone trying to "save" something.
I'll let you know how long the neat and tidy lasts.
Have a fun mid-summer week.