I have two sweet finds to share today.
One is an oldie but a goodie.  The other is BRAND new.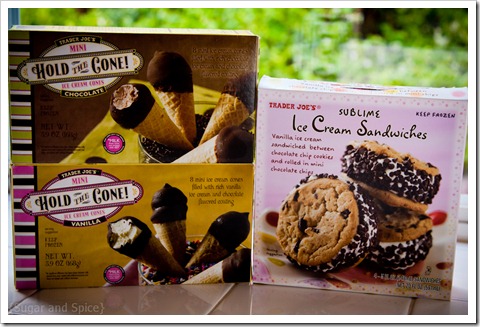 The old friend first.
Sublime Ice Cream Sandwiches.
Simply delectable.
Two chocolate chip cookies with vanilla ice cream in the middle then rolled in mini chocolate chips.  I can neither confirm or deny that I have eaten an entire box in one evening.  Don't look even look at the calorie count.
Price $3.69, clinic 4 per box.
Next is the new kid on the block, stuff teeny tiny chocolate covered ice cream cones.
Sheer genius.
They come 8 to a box, either chocolate or vanilla.
I bought 4 boxes.  Yes, I did.  They were flying out of the freezer case.
Perfect for the little people or a late night snack.
Price $2.99 a box
Enjoy!